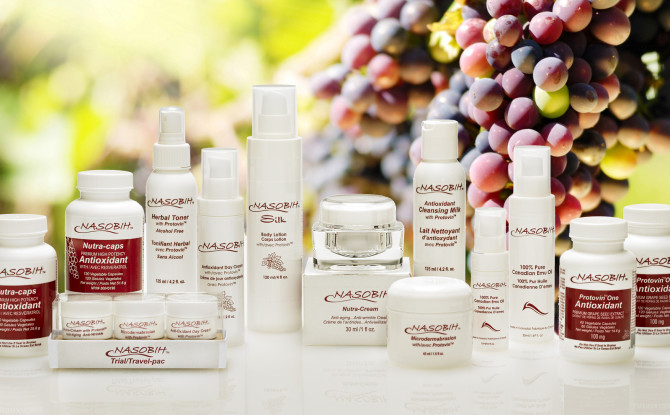 The latest and the greatest
With the explosive growth in body consciousness and powerful market development towards "looking and feeling good", the market is starting to see the merging of personal care products and nutrients that are ingested and those that are topically applied.
First there were cosmeceuticals defined in the 1990's as "skin care products that claim therapeutic benefits through the inclusion of alpha hydroxyl acids, beta hydroxyl acid and vitamins A,C and E".
Now there is the introduction of nutricosmetics- orally ingested products to improve health and beauty that, according to the latest market study, make up a rapidly-growing category. The driving force behind the growth is…who else but the baby boomer generation, a group that is currently spending billions each year in an effort to maintain youthful looks and wellness.
One of the first systems developed to meet this new nutricosmetic industry is Nasobih™ (Natural Anti-aging System for Outer Beauty and Inner Health). Nasobih™ is a two-step system that utilizes, 1) orally ingested Protovin™ One (high potency grape seed extract) or Nasobih™ Nutra-Caps containing Protovin™, resveratrol, vitamin C and citrus bioflavonoids, both approved by Health Canada's natural health directorate. Step 2) Nasobih™ Nutra-Cream, which is a topically applied Protovin™ including other antioxidants that protects the skin from environmental damage at the surface. This system works synergistically to provide greater results on the vitality and health of your skin. A study published in the Skin Physiology Journal 2007, showed a significant reduction in inflammatory response to UV radiation and a significant increase in skin hydration. Other benefits experienced are reduction in fine lines and wrinkles, age spots, reduced redness from rosacea and other skin conditions.
Oral application of Nasobih™ provides internal circulatory health to the microcirculation at the base of the skin. This helps healthy skin cells to develop as they migrate to the surface of the skin. The topical application of Nasobih™ protects and treats the skin from external environmental damage. The combination of this system, slows the aging process – so you look as good as you feel.