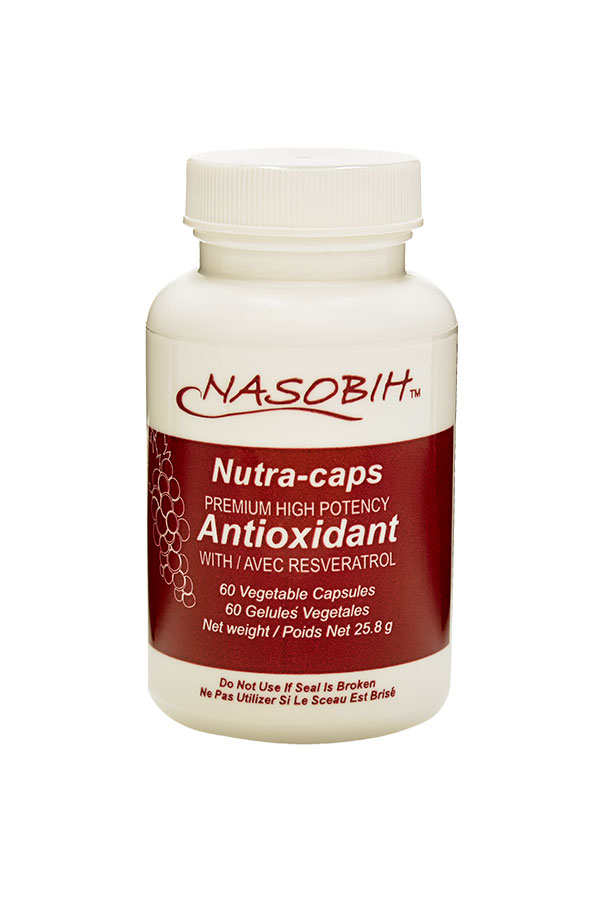 Nutra-Caps 60 capsules 320mg ( Protovin™ grape seed extract 100 mg, resveratrol 20 mg, vitamin C 100 mg, citrus bioflavonoids 100 mg)
Price $28.30
Approved by Health Canada's Natural Products Directorate as a source of antioxidant for the maintenance of good health. Helps to relieve symptoms related to non-complicated chronic venous insufficiency such as sensation of swelling, heaviness, and tingling of the legs.
Take up to 4 capsules per day in divided doses, for example, 1-2 capsules in the morning and 1-2 capsules before bed or as directed by your health care professional. Use for a minimum of one month before evaluating beneficial effect on your skin and cardiovascular system.

Protovin ™ 100mg (grape seed extract), Vitamin C 100mg, Resveratrol 20mg, Citrus Bioflavonoids 100mg
Protovin™ 100mg (grape seed extract)
Protovin™ is a high quality grape seed extract (GSE). Because it is produced in the traditional manner through ethanol extraction, its composition has not been artificially altered through chemical manipulation. The result is a wider spectrum of proanthocyanidin activity that more exactly mimics the spectrum found in nature. . GSE is a powerful antioxidant and potent rejuvenator of the water soluble form of Vitamin C. It also has strong anti-inflammatory properties. GSE has particular affinity for the connective tissue components of the cellular makeup and has been found to be effective in returning these tissues to a more "youthful" state of being after they have suffered from age-related damage.
Vitamin C 100mg
A cell protector and immunity booster that helps the body fight free radicals and recycle other antioxidants. The skins first line of defense is high levels of vitamin C in the cells of the dermis. Ionizing radiation causes the formation of free radicals and as these are formed they are neutralized by Vitamin C.
Resveratrol 20mg
Produced by red grape skins and renowned for its beneficial effects on cardiovascular health. It helps prevent bad cholesterol from blocking the arteries dramatically reducing the risk of developing vascular disease. It is a naturally occurring phytoestrogen with antioxidant and anti-inflammatory properties. also supports grape seed extract and citrus bioflavonoid in helping to prevent malignant change in sun-exposed dermal cells.
To learn more on resveratrol go to the Fox News video located on our website home page under "real results" then
click on "Feel Healthier and Look Younger"
Citrus Bioflavonoids 100mg
Natural antioxidants and free radical quenchers derived from citrus peel. Acts similar to grape seed extract but is not as potent in its effects. It has specific effects in its ability to stabilize endothelial tissue and prevent arterial damage from massive free radical damage. Enhances the benefits of Vitamin C, E and Beta Carotene, converting them back to their active form when they have been reduced by their function as electron donors.
Nasobih Nutra-Caps is approved by Health Canada under the Natural Health Products Directorate NPN # 80045196

Nasobih™ Nutra-Caps are used in combination with Nasobih™ Nutra-Cream to increase the anti-inflammatory effect, including redness caused by ultra violet radiation (sun burn) and to increase skin hydration. This is based on a scientific study published in the Skin Pharmacology and Physiology Journal, 2007.
For more information on Nasobih™ Nutra-Caps go to our home page and click on "learn More" then click on the "education videos tab". Scroll down and find Dr. Kamran Forghani's webinar on "Anti-Aging Medicine" and Dr. Neil McKinney's webinar on "Cancer Prevention"