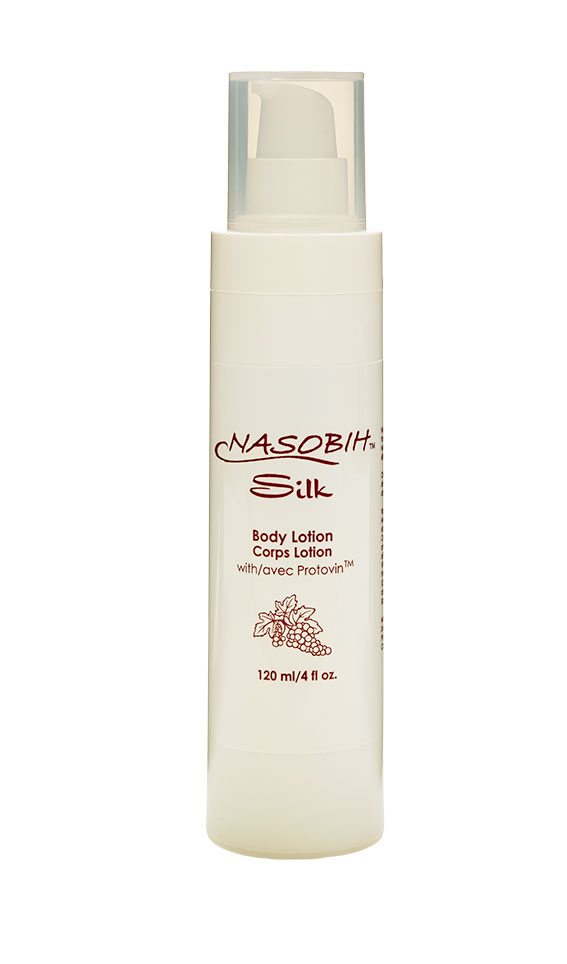 Silk Body Lotion – 120ml/4 fl oz.

Buy Online
Price $24.95
Apply to your skin as needed. Naturally soothes, moisturizes and protects your body from environmental damage and premature aging. Nasobih™ Silk absorbs quickly leaving your skin feeling silky smooth. Packaged in and airless pump to prevent oxidation keeping the product fresh.

Purified water, Behentrimonium Methosulfate, Cetearyl Alcohol, Cetyl alcohol, Stearyl alcohol, Glycol stearate, Vegetable glycerin, Lanolin,Cyclomethicone, Phenoxyethanol and CaprylylGlycol and Sorbic Acid, Grape seed oil, Safflower oil, Rose hip oil (Rosa Mosqueta), Protovin™ (Grape Seed Extract, Vitis Vinifera), Vitamin E (Tocopherols), Ascorbyl Palmitate, CoEnzyme Q10, Palmarosa oil (Cymbopogon martini), Lavender oil (Lavenfder angustifolium), Geranium oil (Pelargonium graveolens), Sandalwood oil(Santalum spicatum)
Note: There are no parabens or artificial ingredients in any of Nasobih™ products.

Keeping your skin well hydrated can be a challenge as you get older. We tend to loose the ability to maintain moisture in our skin which causes premature wrinkles and that dehydrated look of dryness. Nasobih™ Silk Body Lotion was designed to keep your skin moisturized reducing wrinkles and increasing hydration. It serves as part of the Nasobih™ anti-aging system from the neck down. Use Nasobih™ Nutra-Cream and Day Cream for the face and neck.