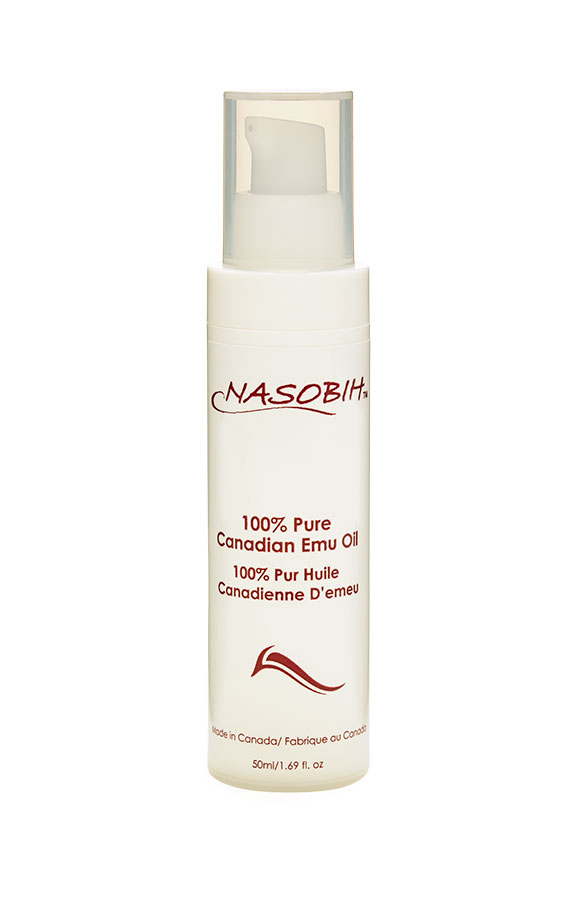 A pure and natural emollient, Rub Nasobih™emu oil on affected area 2-3 times per day or as needed. When using as a carrier agent, apply emu oil before other topical creams. Apply the emu oil before Nasobih™ Nutra-Cream to enhance anti-aging effects, such as fine lines, wrinkles, and skin redness. For external use only, if pain or irritation occurs, discontinue use.

100% Pure Emu Oil (descented) Packaged in an airless pump to prevent oxygen from entering the container, preventing oxidation and rancidity. Nasobih Emu Oil is fully refined for the highest quality.

To learn more about emu oil,
read our blog
on the home page. You can also get extensive information from the book "Emu Oil, An Ancient Remedy". Copies if this book by Dr. Bill Code is now available to order on the Nasobih website.
Modern science has discovered the healing properties of emu oil and have studied the oil in a variety of skin related disorders such as, contact dermatitis, herpes zoster and simplex, burns including sun burn, bed sores, skin ulcers and aged skin just to name a few. The oil has shown to have profound anti-inflammatory and skin penetrating action which may account for its pain relieving properties. The composition of the oil is very similar to the skin which allows for deeper skin penetration. Many clinicians will use emu oil as a carrier to enhance the penetration of other dermatological medicines and nutrients to increase efficacy and speed healing.
Nasobih™ 100% pure Canadian emu oil is obtained from an exclusive processor in the northern prairie region of Canada to ensure the highest quality and potency. Like deep water salmon, emu's raised in colder climates have a higher concentration of omega-3 and omega-6 fatty acids then emu birds raised in warmer climates. Nasobih™ emu oil is extracted as a bi-product from the emu meat industry. Emu meat is very low in fat content and serves as a healthier source of protein from meat.